THE UTILIZATION OF PHYSICIAN ASSISTANTS IN MANITOBA OVER THE PAST 15 YEARS
Abstract
Abstract:
Introduction: A Physician Assistant is a medical professional working to help extend physician care for patients, and one of the solutions to optimize healthcare and improving access to quality care across the country. PAs improve wait times, patient satisfaction, quality of life of the physician and allows the physician to focus on complicated cases without sacrificing the care of other patients. The civilian PA has been present since 2003 in Manitoba. 
Objective: A mixed methodology qualitative research project with a questionnaire of opened ended questions and commentary was conducted to evaluate the utilization of PAs over the last fifteen years.
Methods: A literature review using the University of Manitoba catalogue and PubMed going back the last ten years sought articles related to the history of PAs and their utilization in Canada. Of the 217 articles reviewed eight papers met the criteria, two were specific to
 
Manitoba alone.  Questionnaires were sent to physicians and PAs present at the inauguration of the PA profession and in the workforce spanning the last fifteen years.
Results: The questionnaire was sent to forty-six individuals, including seven physicians and thirty-nine PAs. Twenty-four completed the survey resulting in a 52% response rate. Four themes emerged from the data: PA improvement of the medical team, the varying utilization of the PA within multiple disciplines, the lack of proper utilization of the PA within Manitoba, and the discussion on where the PA will create the greatest impact in the coming years.
Conclusions: Over the past fifteen years PAs have been introduced to multiple disciplines in Manitoba. PAs, trained as generalists, help improve access to care, patient satisfaction, and the quality of life of both the patients and the physicians. However, their utilization is not to their fullest potential in Manitoba.
References
Jones IW, Hooker RS. Physician Assistants in Canada Update on health policy initiatives. Can Fam Physician. 2011;57:83–8.
Doan Q, Piteau S, Sheps S, Singer J, Wong H, Johnson D, et al. The role of physician assistants in pediatric emergency medicine: The physician's view. Can J Emerg Med. 2013;15(6):321–9.
O'Connor TM, Hooker RS. Extending rural and remote medicine with a new type of health worker: Physician Assistants. Aust J Rural Health. 2007;15(6):346–51.
Doan Q, Sabhaney V, Kissoon N, Sheps S, Singer J. A systematic review: The role and impact of the physician assistant in the emergency department. Emerg Med Australas [Internet]. 2011;23(1):7–15. Available from: http://doi.wiley.com/10.1111/j.1742-6723.2010.01368.x
White H, Round JEC. Introducing physician assistants into an intensive care unit: Process, problems, impact and recommendations. Clin Med J R Coll Physicians London. 2013;13(1):15–8.
Hooker RS, MacDonald K, Patterson R. Physician Assistants in the Canadian Forces. Mil Med [Internet]. 2003;168(11):948–50.
U.S. Department of Labor. Bureau of Labor Statistics [Internet]. Occupational Outlook Handbook. 2018. Available from: https://www.bls.gov/ooh/helathcare/physician-assistants.htm
Fréchette D, Shrichand A. Insights into the physician assistant profession in Canada. J Am Acad Physician Assist. 2016;29(7):35–9.
Canadian Association of Physician Assistants. PA Facts [Internet]. 2017. 2018 [cited 2018 Apr 22]. Available from: https://capa-acam.ca/about-pas/pa-fact-sheet/
Mertens J, Descoteaux M. The evolution of PAs in the Canadian Armed Forces. J Am Acad Physician Assist. 2017;30(1).
College of Physicians and Surgeons of Manitoba. Registrar's Report: Physician Resource Statistics 2017. Regist Rep 2017. 2017;1(April):1–6.
Canadian Association of Physician Assistants. PA Education Programs [Internet]. 2011. 2018 [cited 2018 May 2]. Available from: https://capa-acam.ca/pa-students/pa-education-programs/
Canadian Association of Physician Assistants. Canadian Association of Physician Assistants' Member/Census 2016 Results. Ottawa: Canadian Association of Physician Assistants; 2016. p. 1–32.
Bowen S, Botting I, Huebner L, Wright B, Beaupre B, Permack S, et al. Potential of physician assistants to support primary care Can Fam Physician. 2016;62:268–77.
Bohm ER, Dunbar M, Pitman D, Rhule C, Araneta J. Experience with Physician Assistants in a Canadian Arthroplasty Program. Can J Surg. 2010;53(2):103–8.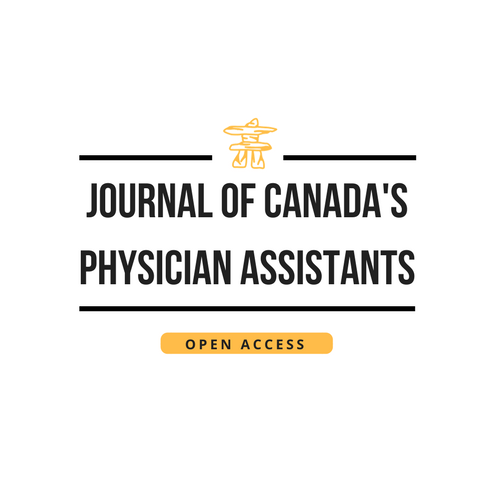 Downloads
How to Cite
Casselman, A. (2018). THE UTILIZATION OF PHYSICIAN ASSISTANTS IN MANITOBA OVER THE PAST 15 YEARS. The Journal of Canada's Physician Assistants, 1(1), 20–32. https://doi.org/10.5203/jcanpa.v1i1.623
Section
PA-Student Submission
License
Authors published in the Journal of Canada's Physician Assistants (JCanPA) retain copyright of their articles, including all drafts and final published version. By agreeing to publish in JCanPA, authors grant the journal the right of first publication and distribution rights of the articles. Authors are free to submit their work to other publications in addition to JCanPA, provided they acknowledge its initial publication in JCanPA.
JCanPA is published online in the public domain. JCanPA holds no legal responsibility as to how these materials are used by the public. Please ensure all authors, co-authors, and investigators have read and agree to these terms.