The Failure to Provide Equitable Public Health Services in British Columbia and the Case Study of Physician Assistants
Abstract
This paper presents a picture of an impoverished philosophy of health care in Canada. Our system features weakly designed legal protections which cannot help manifest necessary public health interventions beyond the narrowest confines of 'medical necessity'. The case study used to illustrate this will be British Columbia's crisis in healthcare provision, coupled with the province's failure to regulate physician assistants despite persistent lobbying.
References
STATUTES
Canada Health Act, RSC 1985 c C-6.
Canadian Charter of Rights and Freedoms, s 15, Part I of the Constitution Act, 1982,
being Schedule B to the Canada Act 1982 (UK), 1982, c 11.
Constitution Act, 1867, 30 & 31 Vict, c 3; RSC 1985 App II, No 5.
Medicare Protection Act, RSBC 1996, c 286, s 2.
JURISPRUDENCE
Auton (Guardian ad litem of) v British Columbia (AG), 2004 SCC 78, [2004] 3 SCR 657.
Ali v Canada, 2006 TCC 287, [2006] 4 CTC 2087.
Cambie Surgeries Corp. v. British Columbia (Medical Services Commission), 2010
BCCA 396, 323 DLR (4th) 680.
Canada (AG) v JTI-Macdonald Corp, 2007 SCC 30, [2007] 2 SCR 610.
Canada (AG) v PHS Community Services Society, 2011 SCC 44 [2011], 3 SCR 134.
Chaoulli v Quebec (Attorney General) 2005 SCC 35, [2005] 1 SCR 791.
Eldridge v British Columbia (Attorney General), [1997] 3 SCR 624, 151 DLR (4th) 577.
Gosselin v Quebec (AG), 2002 SCC 84, [2002] 4 SCR 429.
Kahkewistahaw First Nation v Taypotat, 2015 SCC 30, [2015] 2 SCR 548.
M v H, [1999] 2 SCR 3, 171 DLR (4th) 577.
Masse v Ontario (Ministry of Community & Social Services), 134 DLR (4th) 20, 40
Admin
LR (2d) 87 (Ont Div Court).
Newfoundland (Treasury Board) v NAPE, 2004 SCC 66, [2004] 3 SCR 381.
R v Edwards Books and Art Ltd, [1986] 2 SCR 713.
R v Morgentaler, [1988] 1 SCR 30.
Re BC Motor Vehicle Act, [1985] 2 SCR 486.
RJR-MacDonald Inc v Canada, [1995] 3 SCR 199 at 137, 127 DLR (4th) 1.
Schneider v The Queen, [1982] 2 SCR 112, 139 DLR (3d) 417.
Stewart v Elk Valley Coal Corp, 2017 SCC 30, [2017] 1 SCR 591.
Tanudjaja v Canada (Attorney General), 2013 ONSC 5410 at para 37, 116 OR (3d)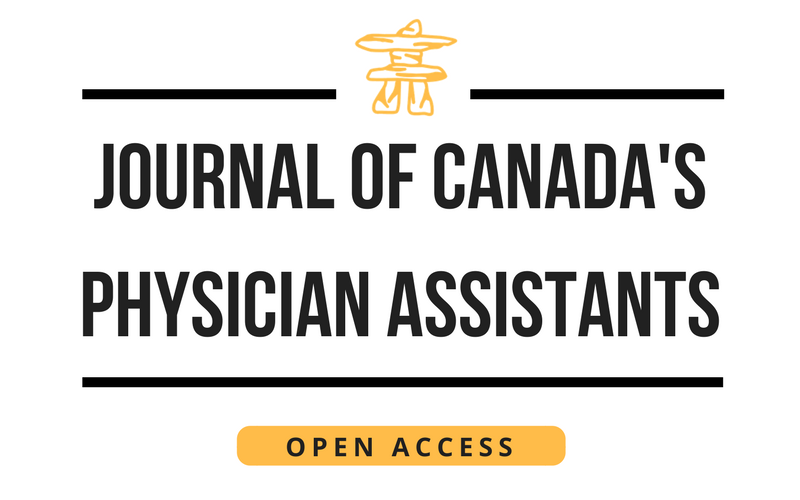 How to Cite
Moore, L. (2019). The Failure to Provide Equitable Public Health Services in British Columbia and the Case Study of Physician Assistants. The Journal of Canada's Physician Assistants, 1(2), 32–45. https://doi.org/10.5203/jcanpa.v1i2.673
License
Authors published in the Journal of Canada's Physician Assistants (JCanPA) retain copyright of their articles, including all drafts and final published version. By agreeing to publish in JCanPA, authors grant the journal the right of first publication and distribution rights of the articles. Authors are free to submit their work to other publications in addition to JCanPA, provided they acknowledge its initial publication in JCanPA.
JCanPA is published online in the public domain. JCanPA holds no legal responsibility as to how these materials are used by the public. Please ensure all authors, co-authors, and investigators have read and agree to these terms.