DRESS: A Case Study
Abstract
This case study describes an incidence of DRESS secondary to Phenytoin. DRESS is characterized by pyrexia, diffuse maculopapular rash, eosinophilia with reactive lymphocytes, hepatitis and renal dysfunction. Similar cases are commonly seen in some variation in many clinical settings where Physician Assistants are employed, and carries a high degree of mortality.  It is hoped that through the publication of this case, that Physician Assistants will become more familiar with the signs, symptoms, diagnosis and treatment of DRESS, as well as the significant associated mortality and common offending medications. 
References
Al-Quteimat O. Phenytoin-induced toxic epidermal necrolysis: Review and recommendations. Journal of Pharmacology and Pharmacotherapeutics. 2016;7(3):127.
Saltzstein S. and Ackerman, L. Lymphadenopathy induced by anticonvulsant drugs and mimicking clinically pathologically malignant lymphomas. Cancer. 1959; 12(1): 164-182.
Siegal S, Berkowitz J. Diphenylhydantoin (Dilantin) hypersensitivity with infectious mononucleosis-like syndrome and jaundice. Journal of Allergy. 1961;32(5):447-451.
Watanabe H. Recent advances in drug-induced hypersensitivity syndrome/drug reaction with eosinophilia and systemic symptoms. Journal of Immunology Research. 2018;2018:1-10.
Oelze L, Pillow M. Phenytoin-induced drug reaction with eosinophilia and systemic symptoms (DRESS) syndrome: A case report from the emergency department. The Journal of Emergency Medicine. 2013;44(1):75-78.
Shiohara T, Inaoka M, Kano Y. Drug-induced hypersensitivity syndrome (DIHS): A reaction induced by a complex interplay among herpesviruses and antiviral and antidrug immune responses. Allergology International. 2006;55(1):1-8.
Cacoub P, Musette P, Descamps V, Meyer O, Speirs C, Finzi L et al. The DRESS Syndrome: A Literature review. The American Journal of Medicine. 2011;124(7):588-597.
Shiohara T, Kang Y, Hirahara K, Aoyama Y. Prediction and management of drug reaction with eosinophilia and systemic symptoms (DRESS). Expert opinion on drug metabolism & Toxicology. 2017;13(7):701-704.
Gidal B. Phenytoin Hypersensitivity: It's Time for Some Individuality. Epilepsy Currents. 2015;15(4):177-17.
Tassaneeyakul W, Prabmeechai N, Sukasem C, Kongpan T, Konyoung P, Chumworathayi P et al. Associations between HLA class 1 and cytochrome P450 2C9 genetic polymorphisms and phenytoin-related severe cutaneous reactions in a Thai population. Pharmacogenetics and Genomics. 2016;26(5):225-234.
UpToDate [Internet]. Uptodate.com. 2018 [cited 15 November 2018]. Available from: https://www.uptodate.com/contents/search?search=dilantin
Kim D, Koh Y. Comparison of diagnostic criteria and determination of prognostic factors for drug reaction with eosinophilia and systemic symptoms syndrome. Allergy, Asthma & Immunology Research. 2014;6(3):216.
Tas S, Simonart T. Management of drug rash with eosinophilia and systemic symptoms (DRESS Syndrome): An update. Dermatology. 2003;206(4):353-356.
Lee T, Lee Y, Yoon S, Kim S, Bae Y, Kwon H et al. Characteristics of liver injury in drug-induced systemic hypersensitivity reactions. Journal of the American Academy of Dermatology. 2013;69(3);407-415.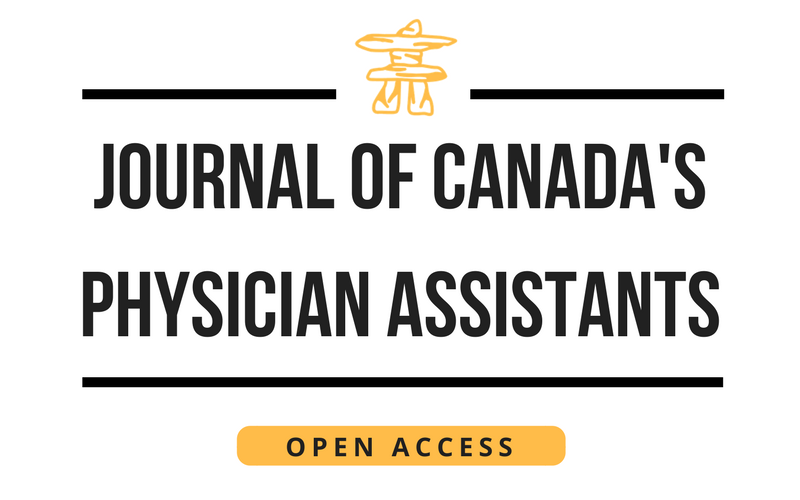 Downloads
How to Cite
Hall, S. (2019). DRESS: A Case Study. The Journal of Canada's Physician Assistants, 1(2), 66–73. https://doi.org/10.5203/jcanpa.v1i2.674
Section
Clinical Case Studies
License
Authors published in the Journal of Canada's Physician Assistants (JCanPA) retain copyright of their articles, including all drafts and final published version. By agreeing to publish in JCanPA, authors grant the journal the right of first publication and distribution rights of the articles. Authors are free to submit their work to other publications in addition to JCanPA, provided they acknowledge its initial publication in JCanPA.
JCanPA is published online in the public domain. JCanPA holds no legal responsibility as to how these materials are used by the public. Please ensure all authors, co-authors, and investigators have read and agree to these terms.