Why Canada Should Expand the PA Profession
References
American Academy of Physician Assistant (AAPA). 2011. Specialty practice: issue brief. Retrieved on December 20, 2018 from https://www.aapa.org/wp-content/uploads/2016/12/SP_Surgery.pdf
Cawley, J. F. (2012). Physician assistants and their role in primary care. AMA Journal of Ethics. Retrieved on December 20, 2018 from https://journalofethics.ama-assn.org/article/physician-assistants-and-their-role-primary-care/2012-05
Clemens, J. & Bacchus, B. (2014). If universal health care is the goal, don't copy Canada. Forbes. Retrieved on November 20, 2018 from https://www.forbes.com/sites/theapothecary/2014/06/13/if-universal-health-care-is-the-goal-dont-copy-canada/#4f97d35178d5
Colwill, J. M., Cultice, J. M., Kruse, R. L. (2008). Will generalist physician supply meet demands of an increasing and aging population? Health Affairs, 27(3): W232-41
Decloe, M., McCready, J., Downey, J., & Powis, J. (2015). Improving health care efficiency through the integration of a physician assistant into an infectious diseases consult service at a large urban community hospital. Can J Infect Dis Med Microbiol, 26(3): 130–132.
Doan, Q., Piteau, S., Sheps, S., Singer, J., Wong, H., Johnson, D., & Kissoon, N. (2013). The role of physician assistants in a pediatric emergency department: a center review and survey. CJEM, 15(6): 321-9.
Gifford, A., Hyde, M., Stoehr, J. D. (2011). PAs in the ED: do physicians think they increase the malpractice risk? JAAPA, 24 (6): 34, 36-8.
Hauer, K. E., Durning, S. J., Kernan, W. N., Fagan, M. J., Mintz, M., O'Sullivan, P. S., … Schwartz, M. D. (2008). Factors associated with medical students' career choices regarding internal medicine. JAMA 300(10):1154-64
Hooker, R. S., Hogan, K., & Leeker, E. (2007). The globalization of the physician assistant profession. Journals of Physician Assistant Education. 18 (3): 76.85.
Jiang, S. (2016). Physician shortage problem in Canada from 1980 to 2015. Journal of General Practice. 4:6 DOI: 10.4172/2329-9126.1000e112
Larkin, G. L., Kantor, W., & Zieiinski, J. J. (2001). Doing unto others? Emergency medicine residents' willingness to be treated by moonlighting residents and nonphysician clinicians in the emergency department. Academic Emergency Medicine 8(9):886-892.
Mittman, D. E, Cawley, J. F., & Fenn, W. H. (2002) Physician assistants in the United States. The British Journal of Medicine 325(7362):485-7
Ren, F., Palacios, M., & Barua, B. (2017). The price of public health care insurance 2017. Fraser Research Bulletin. Retrieved on November 28, 2018 from https://www.fraserinstitute.org/sites/default/files/price-of-public-health-care-insurance-2017.pdf
Salsburg, E. & Grover, A. (2006). Physician workforce shortages: implications and issues for academic health centers and policymakers. Academic Medicine, 81(9): 782-7
Skinner, B. & Rovere, M. (no date). Canada's health care crisis is an economics problem, not a management problem. Fraser Institute. Retrieved on November 25, 2018 from https://www.fraserinstitute.org/article/canadas-health-care-crisis-is-an-economics-problem-not-a-management-problem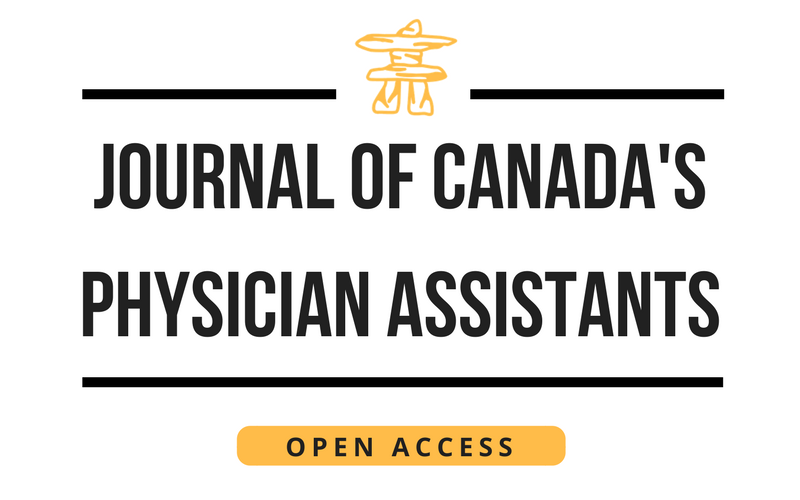 Downloads
How to Cite
Wang, Z. (2019). Why Canada Should Expand the PA Profession. The Journal of Canada's Physician Assistants, 1(2), 50–55. https://doi.org/10.5203/jcanpa.v1i2.680
Section
Perspective, opinion, and commentary:
License
Authors published in the Journal of Canada's Physician Assistants (JCanPA) retain copyright of their articles, including all drafts and final published version. By agreeing to publish in JCanPA, authors grant the journal the right of first publication and distribution rights of the articles. Authors are free to submit their work to other publications in addition to JCanPA, provided they acknowledge its initial publication in JCanPA.
JCanPA is published online in the public domain. JCanPA holds no legal responsibility as to how these materials are used by the public. Please ensure all authors, co-authors, and investigators have read and agree to these terms.