Management of acute appendicitis: The antibiotics debate
Abstract
Appendicitis is one of the most frequent causes for an acute abdomen requiring emergent abdominal surgery worldwide. It has a lifetime risk of 8.6 percent in males and 6.9 percent in females (1). Traditionally, operative management has been the dominant strategy for managing acute appendicitis. However, in recent times, there is much debate about implementing conservative medical management with antibiotics first to treat uncomplicated appendicitis. This article reviews the treatment strategies for acute uncomplicated appendicitis in light of contemporary research to determine if non-operative management is a feasible alternative.
References
Körner H, Söndenaa K, Söreide JA, Andersen E, Nysted A, Lende TH, et al. Incidence of Acute Nonperforated and 1. 1.Perforated Appendicitis: Age-specific and Sex-specific Analysis. World Journal of Surgery. 1997Jan;21(3):313–7.
Fitz R. On Perforating Inflammation of the Vermiform Appendix with Special Reference to Its Early Diagnosis and Treatment. New England Journal of Medicine. 1935Aug;213(6):245–8.
Coldrey E. Five years of conservative treatment of acute appendicitis. J Int Coll Surg. 1959;32(3):255-261.
Humes DJ, Simpson J. Acute appendicitis. BMJ. 2006;333(7567):530-534.
Varadhan KK, Humes DJ, Neal KR, Lobo DN. Antibiotic therapy versus appendectomy for acute appendicitis: a meta-analysis. World J Surg. 2010;34(2):199-209.
Vons C, Barry C, Maitre S, Pautrat K, Leconte M, Costaglioli B et al. Amoxicillin plus clavulanic acid versus appendicectomy for treatment of acute uncomplicated appendicitis: an open-label, non-inferiority, randomised controlled trial. Lancet. 2011;377(9777):1573.
Hansson J, Körner U, Khorram-Manesh A, Solberg A, Lundholm K. Randomized clinical trial of antibiotic therapy versus appendectomy as primary treatment of acute appendicitis in unselected patients. Br J Surg. 2009;96(5):473.
Eriksson S, Granström L. Randomized controlled trial of appendicectomy versus antibiotic therapy for acute appendicitis. Br J Surg. 1995;82(2):166.
Styrud J, Eriksson S, Nilsson I, Ahlberg G, Haapaniemi S, Neovius G et al. Appendectomy versus antibiotic treatment in acute appendicitis. a prospective multicenter randomized controlled trial. World J Surg. 2006;30(6):1033.
Turhan AN, Kapan S, KütükçüE, YiğitbaşH, Hatipoğlu S, Aygün E Comparison of operative and non operative management of acute appendicitis. Ulus Travma Acil Cerrahi Derg. 2009 Sep;15(5):459-62.
Salminen P, Paajanen H, Rautio T, Nordström P, Aarnio M, Rantanen T, Tuominen R et al. Antibiotic Therapy vs Appendectomy for Treatment of Uncomplicated Acute Appendicitis: The APPAC Randomized Clinical Trial. JAMA. 2015;313(23):2340.
Salminen P, Tuominen R, Paajanen H, Rautio T, Nordström P, Aarnio M et al. Five-Year Follow-up of Antibiotic Therapy for Uncomplicated Acute Appendicitis in the APPAC Randomized Clinical Trial. JAMA. 2018;320(12):1259.
Singh JP, Mariadason JG. Role of the faecolith in modern-day appendicitis. Ann R Coll Surg Engl. 2013 Jan;95(1):48-51.
Marudanayagam R, Williams G, Rees B. Review of the pathological results of 2660 appendectomy specimens. J Gastroenterol. 2006 Aug;41(8):745-9.
Carpenter S, Chapital A, Merritt M, Johnson D. Increased risk of neoplasm in appendicitis treated with interval appendectomy: single-institution experience and literature review. Am Surg. 2012 Mar;78(3):339-43
Di Saverio S, Sibilio A, Giorgini E, Biscardi A, Villani S, Coccolini F et al.The NOTA Study (Non Operative Treatment for Acute Appendicitis): prospective study on the efficacy and safety of antibiotics (amoxicillin and clavulanic acid) for treating patients with right lower quadrant abdominal pain and long-term follow-up of conservatively treated suspected appendicitis. Ann Surg. 2014;260(1):109.
Sartelli M, Baiocchi G, Di Saverio S, Ferrara F, Labricciosa FM, Ansaloni L. Prospective Observational Study on acute Appendicitis Worldwide (POSAW). World J Emerg Surg. 2018;1 3:19. Epub 2018 Apr 16.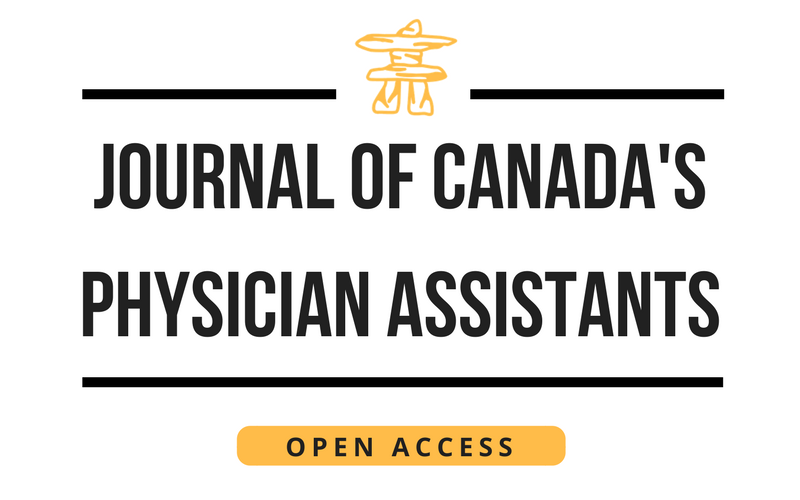 Downloads
How to Cite
Goriawala, A. (2019). Management of acute appendicitis: The antibiotics debate. The Journal of Canada's Physician Assistants, 1(2), 46–49. https://doi.org/10.5203/jcanpa.v1i2.701
Section
Perspective, opinion, and commentary:
License
Authors published in the Journal of Canada's Physician Assistants (JCanPA) retain copyright of their articles, including all drafts and final published version. By agreeing to publish in JCanPA, authors grant the journal the right of first publication and distribution rights of the articles. Authors are free to submit their work to other publications in addition to JCanPA, provided they acknowledge its initial publication in JCanPA.
JCanPA is published online in the public domain. JCanPA holds no legal responsibility as to how these materials are used by the public. Please ensure all authors, co-authors, and investigators have read and agree to these terms.