How Manitoba Physicians see the Value of Physician Assistants
Keywords:
PAs, Physician Assistant, Value, Physician Wellness, Health Workforce
Abstract
This poster presents the opinions of twenty supervising physicians on how Manitoba's 116 P.A.s contribute to Value and physician's wellness.  Design: In May 2019, seventy-two Manitoba physicians who supervise 116 PAs were sent a twenty-question electronic survey asking their perspectives of P.A. Value as a component of an on-going quality assurance program. A Literature review using the Neil John Maclean Health Sciences Library One-Stop, PubMed, and Google Scholar search engines used the terms Value, physician assistant, and combinations of phrases related to P.A. benefit, P.A. values, Physician Value, and Canadian physician concerns with P.A.s occurred to guide the question development. Results: Twenty physicians responded from the list of the seventy-two physician supervisors contacted, representing a response rate of 27.7%.  Three of the physician respondents have employed a P.A. for less than a year, 85% or 16 M.D. for more than two years, with 36.84% of the total for longer than five years. Eighty-five percent (n=18/20) of the responding physicians rated the Value of having a P.A. as very valuable or extremely valuable while 95% (n=19) were likely or extremely likely to recommend hiring a P.A. to a friend or colleague. One physician did not find value in the P.A. they hired. The phrases used by physicians in describing the Value P.A.s brought to Manitoba Healthcare included Honesty and Respect (78.95%), Improved Access (73%), Excellence In Care (63.1%), A Better Workplace (78.95%), Better Patient Safety (73.68%), Better Teamwork (84.21%), Accountability (73.68%),  Efficiency (73.68%), Decreased Stress 42.11%, and Better Communication with Patients (57.89%). CONCLUSION: Ultimately, the determination of P.A.'s Value is through the lenses of those looking and asking what is needed.  Manitoba physicians represented in this survey indicate extreme satisfaction with the quality and Value P.A.s contribute to their practice environment and personal lives.
References
Jones, I. Seeing Value in Physician Assistants. To be published in Physician Assistant Clinics
Jones, I. Burrows, K. Russ I, Jones A, St. Pierre N. A Perspective on the Economic Sustainability of the Physician Assistant Profession in Canada. Journal of Canada's Physician Assistants Vol:1 Edition:1, 2018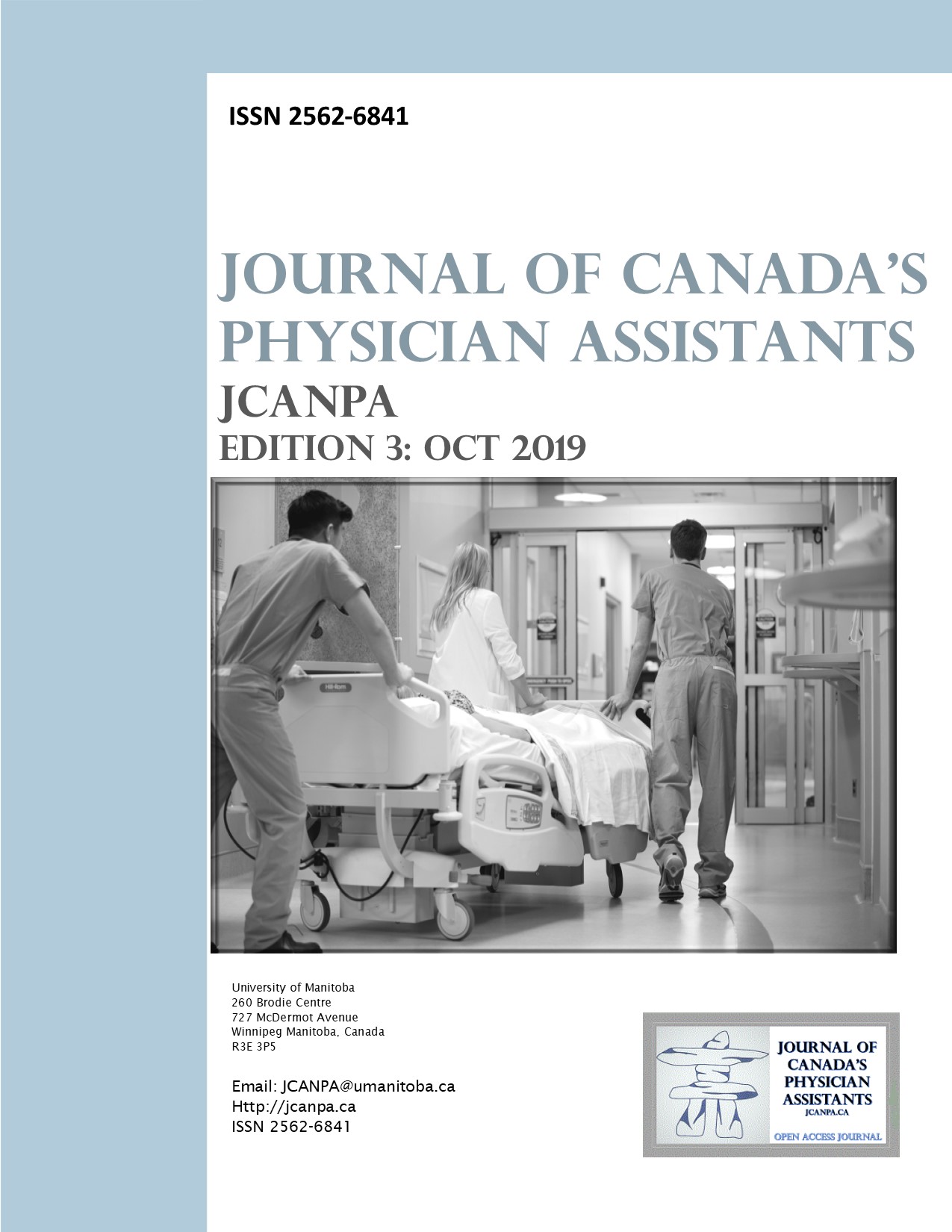 Downloads
How to Cite
Jones, P. I. W. (2019). How Manitoba Physicians see the Value of Physician Assistants. The Journal of Canada's Physician Assistants, 1(3), Annex 1. https://doi.org/10.5203/jcanpa.v1i3.757
License
Copyright (c) 2019 P.A. Ian W Jones
This work is licensed under a Creative Commons Attribution-NonCommercial-NoDerivatives 4.0 International License.
Authors published in the Journal of Canada's Physician Assistants (JCanPA) retain copyright of their articles, including all drafts and final published version. By agreeing to publish in JCanPA, authors grant the journal the right of first publication and distribution rights of the articles. Authors are free to submit their work to other publications in addition to JCanPA, provided they acknowledge its initial publication in JCanPA.
JCanPA is published online in the public domain. JCanPA holds no legal responsibility as to how these materials are used by the public. Please ensure all authors, co-authors, and investigators have read and agree to these terms.