Prioritizing Pregnancy Care in Family Practice
The Role of the Physician Assistant in an Innovative Prenatal Care Model
Keywords:
Prenatal, Refugee, Health, Physician Assistant, Obstetrics, Family medicine
Abstract
This poster presents the qualitative and quantitative outcomes of the two-year review of the antenatal clinic at SRHC. It shows the exponential increase in number of pregnancies managed at SRHC per year (from 61 in 2016 to over 200 projected in 2019), with over two-thirds of all pregnancies followed to term by our MD-PA team. When all options are available for antenatal care, 85% of our patients choose the MD-PA prenatal care model and, thus far, 100% of repeat prenatal patients have requested the same model of care for subsequent pregnancies. Also, owing to the continuity of care throughout the prenatal period, we have seen an increase in timely attendance of well baby check ups and adherence to vaccination schedules for the families followed through our antenatal clinic. SRHC's unique prenatal care model has been recognized by local health authorities, and orientation to our program has been incorporated into mandatory continuing education for the nurses and midwives at the local hospital, providing opportunities to advocate for the Physician Assistant role. In conclusion, this poster shows how SRHC's innovative prenatal care model uses the PA role to bridge family medicine and obstetrical care, in order to provide a full-time antenatal clinic, while optimizing our obstetrical specialist's time in clinic and improving patient care outcomes.
References
Gagnon, A. J., Merry, L. Robinson, C. (2002). A Systematic Review of Refugee Women's Reproductive Health. Refuge: Canada's Journal on Refugees.

Hach, M. (2012) Common threads, common practice: working with immigrant and refugee women in sexual and reproductive health. Collingwood: Multicultural Centre for Women's Health. http://www.mcwh.com.au/downloads/publications/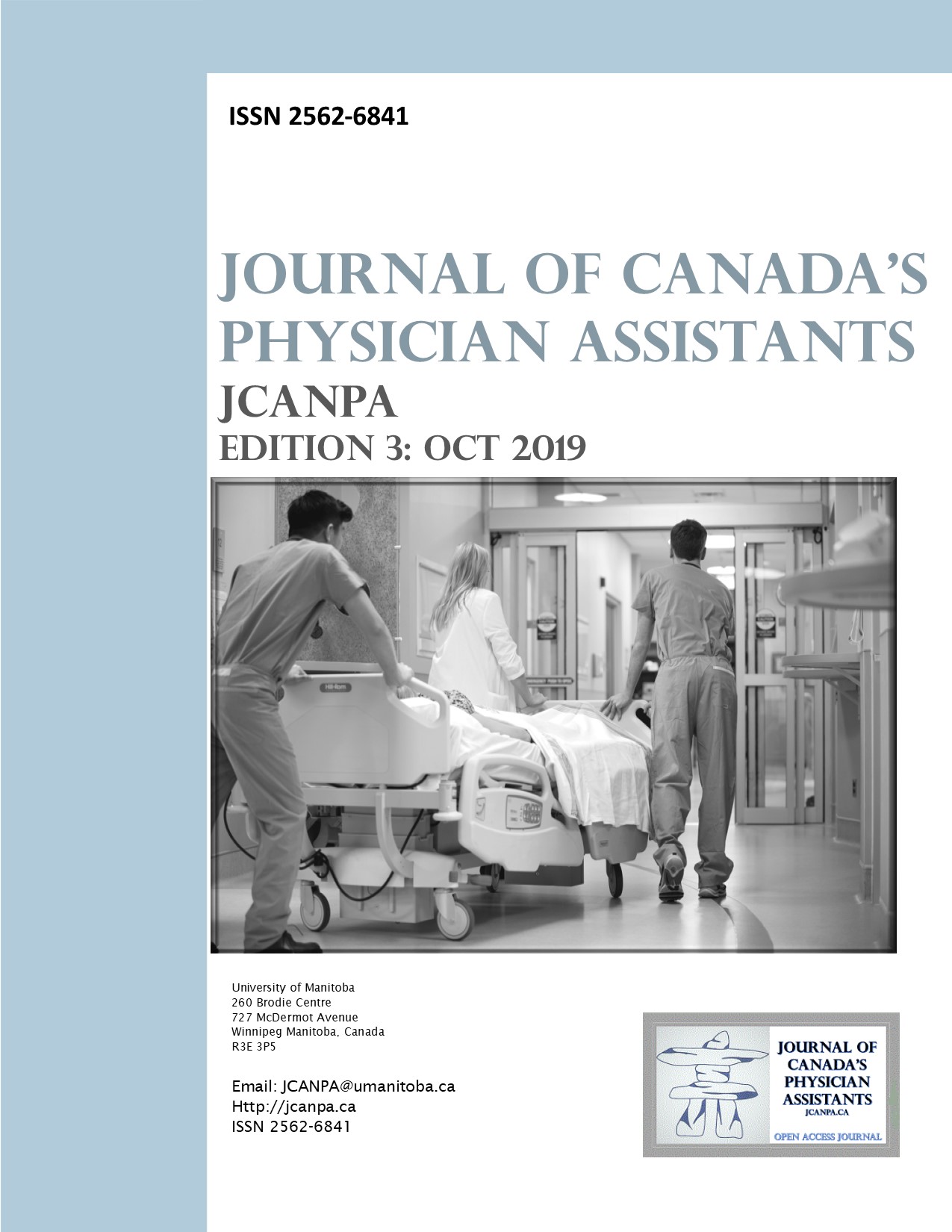 Downloads
How to Cite
Flanagan, P. S. (2019). Prioritizing Pregnancy Care in Family Practice: The Role of the Physician Assistant in an Innovative Prenatal Care Model. The Journal of Canada's Physician Assistants, 1(3), Annex 3. https://doi.org/10.5203/jcanpa.v1i3.771
License
Authors published in the Journal of Canada's Physician Assistants (JCanPA) retain copyright of their articles, including all drafts and final published version. By agreeing to publish in JCanPA, authors grant the journal the right of first publication and distribution rights of the articles. Authors are free to submit their work to other publications in addition to JCanPA, provided they acknowledge its initial publication in JCanPA.
JCanPA is published online in the public domain. JCanPA holds no legal responsibility as to how these materials are used by the public. Please ensure all authors, co-authors, and investigators have read and agree to these terms.