A Physician Assistant-led randomized controlled trial (RCT) to improve outcomes following Breast Cancer Surgery using a Jackson Pratt (JP) drain milking device
Keywords:
PA Research, Breast Cancer surgery, Improved patient care, Quality Improvement, Breast Cancer
Abstract
Breast cancer patients undergoing mastectomy or axillary lymph node dissection (ALND) are routinely discharged home with a drain left in to reduce the risk of developing a seroma. It is our clinical impression that the management of these drains at home is difficult for patients and often leads to unnecessary clinic and emergency department visits. Hence, the objective of this study is to conduct a RCT to track the patient experience with JP drain care and to evaluate the effectiveness of "Tube-Evac", a JP drain milking device, in reducing drain-related complications and unscheduled healthcare visits following Breast Surgery. Methods:
Women undergoing elective mastectomy or ALND at Mount Sinai Hospital were randomly assigned to the "TubeEvac" group (intervention arm) or standard care group (control arm). All patients received standard post-operative discharge instructions. Patients in the intervention arm were seen by a Physician Assistant (PA) prior to hospital discharge and were provided a Tube-Evac device. PAs demonstrated to patients how to milk their JP drain(s) using the device. All patients were asked to complete a log sheet to track community nursing visits and drain complications namely leaking around the drain, seroma and infection. The PAs called all patients on post-discharge day 7 to collect outcome data. The primary outcomes are: (i) rate of drain-related complications (ii) number of unplanned visits to the family physician or emergency department, and (iii) number of community nursing care visits. Secondary outcomes are: (i) number of post-operative days with a drain, and (ii) patient satisfaction and confidence managing surgical drain(s) at home. Categorical data and continuous data were analyzed using chisquare and student's t-test respectively. Results: The interim results are presented for 42 patients (22 Tube-Evac, 20 control). The results show that in the intervention group, there is a trend towards decreased rate of drain-related complications (14% vs 30%), fewer unplanned healthcare visits (2 vs 5), and fewer mean community nursing visits (3.0 vs 3.8). Patients in the intervention group also had the drain in for a shorter period of time compared to the control group. (10.2 vs 12 days). More patients in the intervention group had their drains removed within14 days (82% versus 60%). Patients in the Intervention arm reported higher scores for feeling comfortable managing their drain at home than the control group (7.7 vs 6.84) and the Tube-Evac device was rated highly by the patients (8.78). Conclusion: Preliminary results suggest that the "Tube-Evac" is likely a successful strategy to decreasing drain-related complications and unplanned postoperative healthcare visits, while improving patient confidence with managing their surgical drain(s).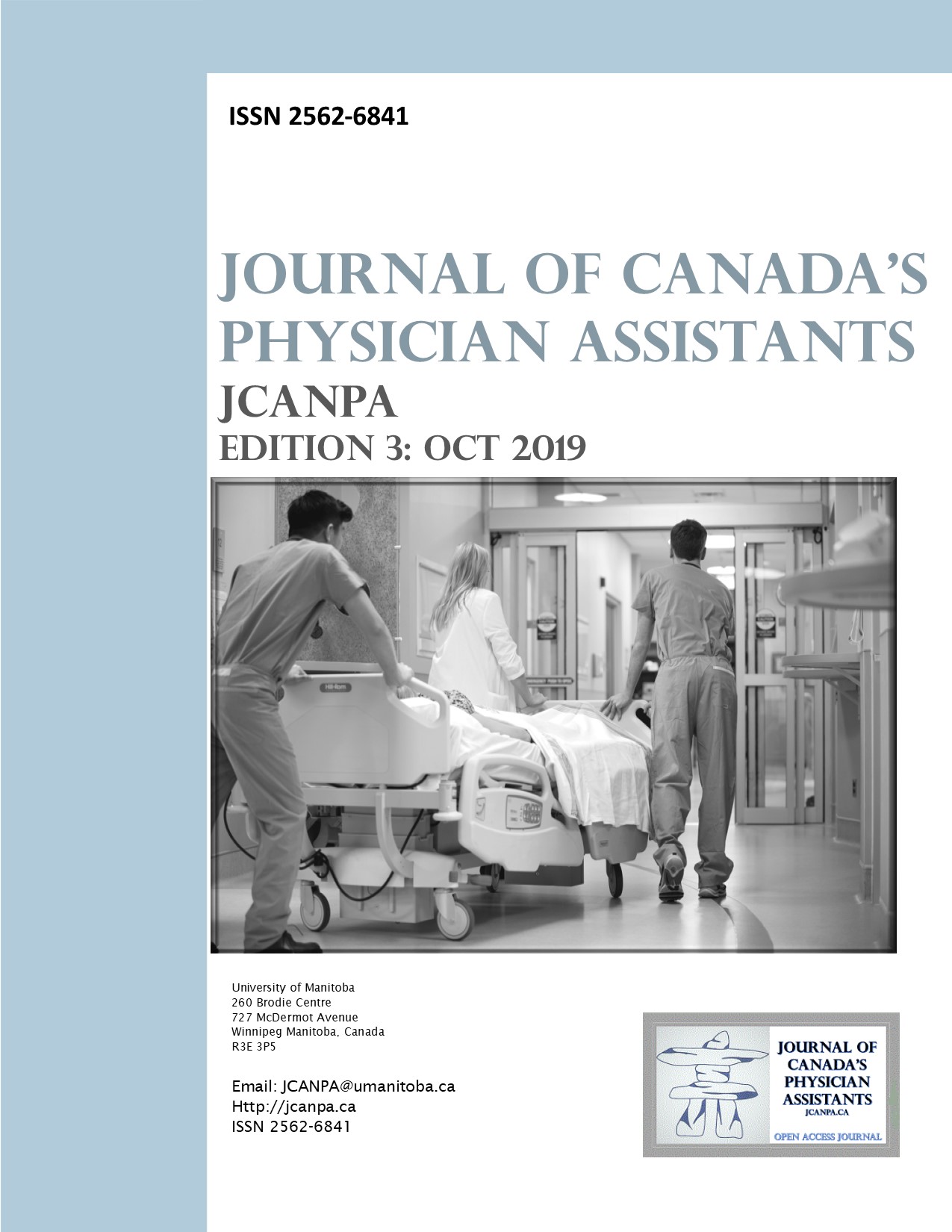 Downloads
Additional Files
How to Cite
Rashid, P. S. (2019). A Physician Assistant-led randomized controlled trial (RCT) to improve outcomes following Breast Cancer Surgery using a Jackson Pratt (JP) drain milking device . The Journal of Canada's Physician Assistants, 1(3), Annex 5. https://doi.org/10.5203/jcanpa.v1i3.775
License
Authors published in the Journal of Canada's Physician Assistants (JCanPA) retain copyright of their articles, including all drafts and final published version. By agreeing to publish in JCanPA, authors grant the journal the right of first publication and distribution rights of the articles. Authors are free to submit their work to other publications in addition to JCanPA, provided they acknowledge its initial publication in JCanPA.
JCanPA is published online in the public domain. JCanPA holds no legal responsibility as to how these materials are used by the public. Please ensure all authors, co-authors, and investigators have read and agree to these terms.