Radiation Oncology Physician Assistant
Evaluation of a Novel Role leading to Improved Patient Care
Keywords:
Oncology, Canadian Cancer Care, Role of Physician Assistant, Oncology Physician Assistant
Abstract
Purpose: Changes in our healthcare system and funding constraints create a pressing need to explore new ways to respond to the ever-increasing demands while maintaining high quality patient care in Radiation Oncology (RO). Physician Assistants (PA) undergo medical training at accredited programs in Canada or the U.S.A. Direct mentorship by supervising Radiation Oncologists (RO) is integral to obtain oncology-based knowledge in order to function in a sub-specialized role. Herein, we aimed to assess a pilot project incorporating a PA within a Department of RO at a tertiary care academic cancer center and to identify opportunities for role expansion.
Materials and Methods: From January 2015 to December 2019, data from ambulatory care clinical activities were prospectively collected for a PA practicing in a RO Department. Indicators relating to activities profile (clinical, educational and administrative), new consultations, follow-ups and on-treatment reviews were captured and analyzed. The PA role and schedule has an adaptable component in response to the clinical needs of the RO department, with emphasis to be assigned in clinics where absence of residents or fellows would negatively impact patient flow and wait times. For consistency, data was derived from sites of continuous involvement only, during the period of January – December 2019.
Results: Over the 5-year assessment interval, the PA provided at least one session (e.g. half a day) of care-related activities within twelve disease sites. Of these, participation was continuous in 4 sites in 2019: Breast, GU, Eye, and Endocrine. During 2019, the PA was involved (e.g. assessment, evaluation and/or patient education) in 3.2% (49 of 1516) of the Breast, 4.3% (56 of 1311) of the GU, 39.2% (104 of 256) of the Eye and 27% (85 of 314) of the Endocrine clinic new consultations. The total new consultations seen by the PA across all sites for 2019 was 4.16% (377 of 9054) in a department with 37 RO and 1 PA.
Conclusions: Within a tertiary care RO Department, a PA provides an additional model of care within a variety of tumor sites. The PA acquired RO related expertise, and the role can expand access to specialized RO care. It has the flexibility to evolve and adapt across disease sites. Incorporating PAs to the care delivery paradigm within busy tertiary centers can increase capacity for patient care, education and research activities. Future studies ascertaining PA impact on patient wait times, task delegation, role expansion, patient satisfaction and value assessment of this model are warranted.
References
Canadian Cancer Statistics Advisory Committee. Canadian cancer statistics 2019. Toronto: Canadian Cancer Society; 2019.
Ross AC et al. Understanding the Role of Physician Assistants in Oncology. J Oncol Prac 2010; 6(1):26-30.
Kelvin JF et al. Non-physician practitioners in radiation oncology: advanced practice nurses and physician assistants. Int J Radiat Oncol Biol Phys. 1999;45(2):255-263. doi:10.1016/s0360-3016(99):00180-7.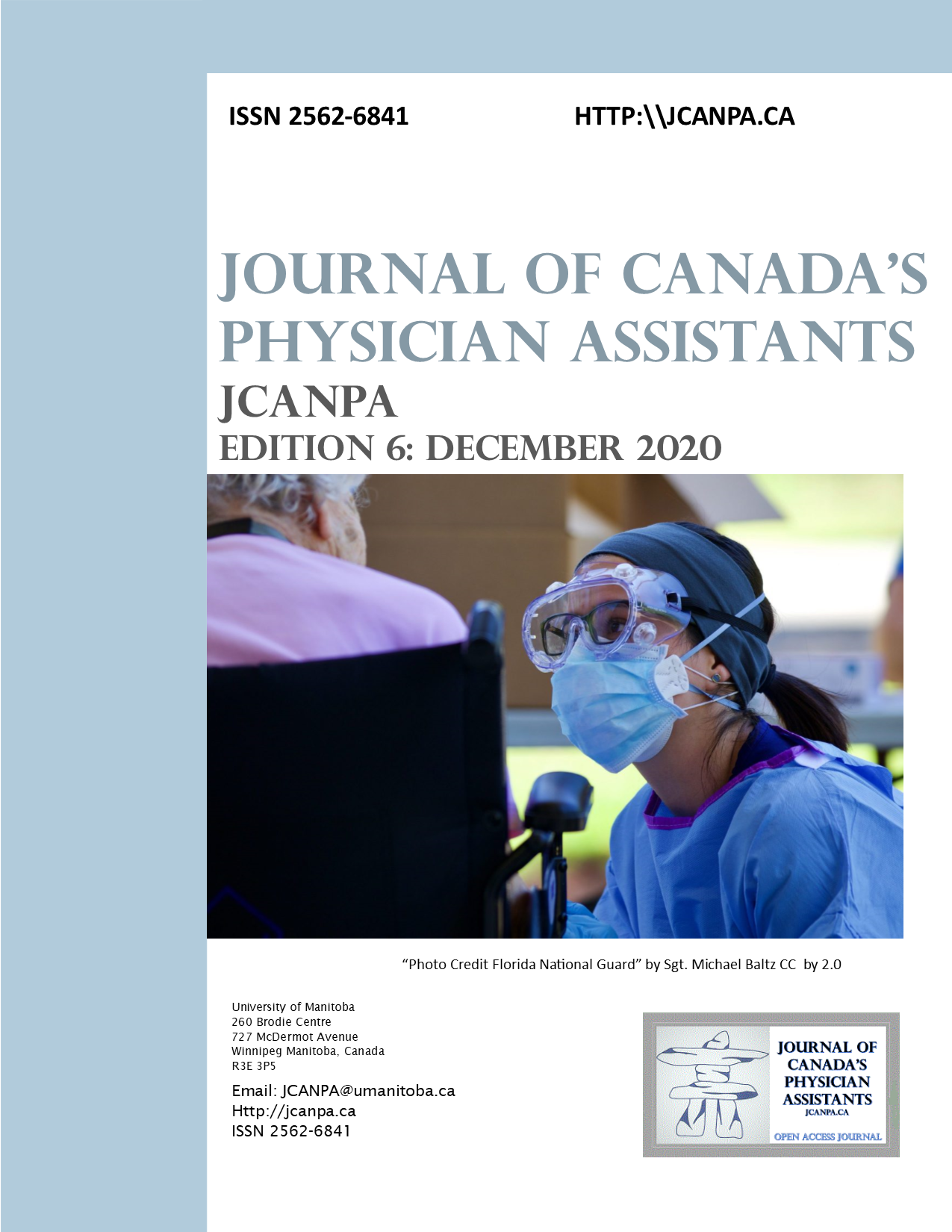 Additional Files
Published
2021-01-25 — Updated on 2021-01-26
How to Cite
Patel, M. (2021). Radiation Oncology Physician Assistant: Evaluation of a Novel Role leading to Improved Patient Care. The Journal of Canada's Physician Assistants, 2(6). https://doi.org/10.5203/jcanpa.v2i6.874 (Original work published January 25, 2021)
License
Copyright (c) 2021 Maitry Patel
This work is licensed under a Creative Commons Attribution-NonCommercial-ShareAlike 4.0 International License.
Authors published in the Journal of Canada's Physician Assistants (JCanPA) retain copyright of their articles, including all drafts and final published version. By agreeing to publish in JCanPA, authors grant the journal the right of first publication and distribution rights of the articles. Authors are free to submit their work to other publications in addition to JCanPA, provided they acknowledge its initial publication in JCanPA.
JCanPA is published online in the public domain. JCanPA holds no legal responsibility as to how these materials are used by the public. Please ensure all authors, co-authors, and investigators have read and agree to these terms.