Challenges with Medical Directives for Physician Assistants in Ontario
Abstract
Physician Assistants (PAs) in Ontario are unregulated health professionals with no legislation directly authorizing them to perform controlled acts. Â PAs have the legal authority to perform their healthcare role primarily through a process of delegation known as medical directives (MedD). Â This process of delegation and requirement for MedD was set in a policy written by the College of Physicians and Surgeons of Ontario (CPSO) before the introduction of PAs into Ontario. Â Through examination of MedD currently in use, several challenges have been identified when this policy is applied to create MedD for PAs. Â The primary issue is the large number of permissible orders a PA requires to fulfill their job requirements. Â Each order within the MedD requires a corresponding comprehensive list of indications and contraindications. Â The resulting document is exceptionally long and time consuming to create such that every organization employing a PA cannot reasonably devote the resources necessary to create such a document. Â A second issue identified is that the CPSO policy was written to reflect situations where the clinical context is fixed. Â In actuality, PAs work in a variety of clinical contexts and often with evolving clinical context. Â Additional problems identified include ambiguity in the criteria outlined for MedD in the CPSO policy, and an inherent delay when clinical practice guidelines are updated before they can be reflected in the MedD. Â To cope with some of these challenges, several approaches have been observed. Â Ultimately it seems that PAs in Ontario function in a role with less autonomy and a smaller scope of practice when compared to PAs in Manitoba, New Brunswick, or the Canadian Armed Forces. Â It is reasonable to conclude that differences in legislation and the massive administrative burden to create thorough MedD would lead to a diminished scope of practice and less autonomy. Â We recommend either updating legislation to specifically address controlled acts performed by PAs in Ontario or updating the CPSO policy to reflect the level of training and role(s) of PAs. Â As an interim improvement, a group of PAs in Ontario will work towards developing standardized MedD to alleviate some of the administrative burden on employers. Â With these proposed changes, the aim is to reduce barriers such that PAs may function in their intended healthcare role and thereby increase the medical services provided to Ontarians.
References
The College of Physicians and Surgeons of Ontario. Delegation of Controlled Acts [Internet]. Toronto: 2012 [cited 2018 Mar 31]. Available from http://www.cpso.on.ca/CPSO/media/uploadedfiles/policies/
policies/policyitems/delegation.pdf?ext=.pdf.
The Ontario Physician Assistant Initiative. Roles and Responsibilities of Supervising Physicians [Internet]. Toronto: 2009 [cited 2018 Mar 31]. Available from https://www.oha.com/Professional%20Issues1/Ontario%
Physician%20Assistant%20Initiative%202009.pdf.
Ovens H, Stevenson K, Cheung W, Dushenki D, Eisen J, Farquharson C, et al. Emergency Department Medical Directives Implementation Kit [Internet; cited 2018 Mar 31]. Available from https://www.oha.com/
Professional%20Issues1/ED%20Medical%20Directives%20
Implementation%20Kit.pdf.
Federation of Health Regulatory Colleges of Ontario. FHRCO Guide to Medical Directives and Delegation [Internet]. Beaverton: 2017 [cited 2018 Mar 31]. Available from: http://
mdguide.regulatedhealthprofessions.on.ca/templates.html.
Canadian Association of Physician Assistants. CAPA Member-Census Results. Ottawa: 2016 [cited 2018 Mar 31]. Forthcoming.
Canadian Association of Physician Assistants. About PAs [Internet]. Ottawa [cited 2018 Mar 31]. Available from: https://capa-acam.ca/about-pas.
Duceppe E, Parlow J, MacDonald P, Lyons K, McMullen M, Srinathan S, et al. Canadian Cardiovascular Society Guidelines on Perioperative Cardiac Risk Assessment and Management for Patients Who Undergo Noncardiac Surgery. Canadian Journal of Cardiology. 2017 Jan (33)1: 17-32.
Canadian Association of Physician Assistants. Legislation [Internet]. Ottawa [cited 2018 Mar 31]. Available from: https://capa-acam.ca/pa-employers/legislation.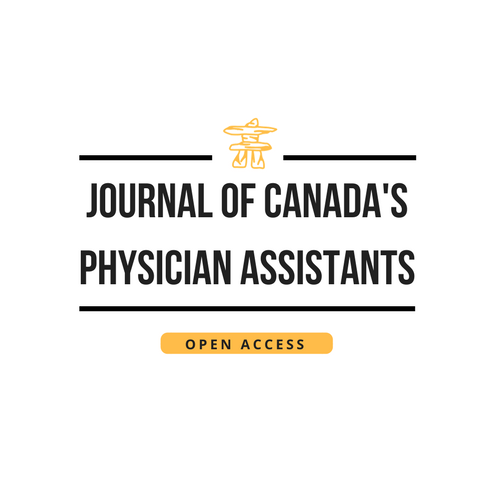 Downloads
How to Cite
Crosby, K., & Dies, N. (2018). Challenges with Medical Directives for Physician Assistants in Ontario. The Journal of Canada's Physician Assistants, 1(1). https://doi.org/10.5203/jcanpa.v1i1.612
Section
Perspective, opinion, and commentary:
License
Copyright (c) 2018 Ken Crosby, Natalie Dies
This work is licensed under a Creative Commons Attribution-NonCommercial-NoDerivatives 4.0 International License.
Authors published in the Journal of Canada's Physician Assistants (JCanPA) retain copyright of their articles, including all drafts and final published version. By agreeing to publish in JCanPA, authors grant the journal the right of first publication and distribution rights of the articles. Authors are free to submit their work to other publications in addition to JCanPA, provided they acknowledge its initial publication in JCanPA.
JCanPA is published online in the public domain. JCanPA holds no legal responsibility as to how these materials are used by the public. Please ensure all authors, co-authors, and investigators have read and agree to these terms.