The Differences Between Canadian Armed Forces and Civillian Physician Assistants: An Interview Series
Differences Between CAF and Civillian PAs
Keywords:
Canadian Armed Forces Physician Assistants, CAF-PA, Canadian Health Workforce
Abstract
The number of Physician Assistants (PA) in Canadian healthcare will grow as the population increases and ages. The closure of the Canadian Armed Forces Physician Assistant Education Program will increase the direct entry of civilian-educated PAs into military service. Knowing the factors related to military or civilian education and practice is essential in understanding this human resource. Information for this qualitative study was gathered through structured interviews to develop and explore the themes occurring during the Canadian Armed Forces Physician Assistant's journey through their career, education deployment, and transition to civilian employment. Civilian PAs joining the military must understand that the military is a controlled environment that requires flexibility and adaptability, but a high level of comradery is among the benefits. Role differences were noted in military and civilian practice and explored the experiences, practice environments, teamwork, resiliency, flexibility, limited range of patient ages, and medical conditions limited clinical experiences. The transitions into civilian practice by military PAs resulted in a steep learning curve related to the health concerns more common to civilian populations. Still, they were backed by the confidence and attributes those individuals developed in the military. Regarding work environments, the military requires and offers unique experiences and posting to remote locations, naval ships, and overseas, which can result in autonomous practice only found in specific rural civilian areas.
References
CAPA. Canadian Association of Physician Assistants - PA News. [Internet] 2023. www.capa.acam.ca.
Jones, IW. Where are Canada's PAs in 2023? Journal of the American Academy of Physician Assistants (JAAPA), 2023.
Chapman, Maurice. THE HISTORY OF THE CANADIAN ACADEMY/ASSOCIATION OF PHYSICIAN ASSISTANTS (CAPA). Unpublished Copy, 2012
Mertens, J. Descoteaux,D. The Evolution of PA in the Canadian Armed Forces. JAAPA. January 2017.
Hooker, RS, MacDonald, K and Patterson, R. Physician Assistants in the Canadian Forces. Military Medicine. 2003; 168(1): 948-950
Jung, HW. The Birth of Physician Assistants in Canada.Canadian Family Physicians. 2011; 57(1): 275-6
North Atlantic Treaty Organization. NATO Standard AJMedP-4, Allied Joint Medical Force Health Protection Doctrine, Ed. A v. 1, July 2018, p 1-1. Available from: https://www.coemed.org/files/stanags/02_AJMEDP/AJMedP-4_EDA_V1_E_2561.pdf
.Canadian Armed Forces. Medical Technician. [Internet] Government of Canada, 2023. Available from: https://forces.ca/en/career/medical-technician/
Master of Physician Assistant Studies. Master of Physician Assistant Studies. [Internet] University of Manitoba, 2023. Available from: https://umanitoba.ca/medicine/medicine/master-of-physician-assistant-studies
University of Toronto. Admission Requirements. [Internet]. Temerity Faculty of Medicine, 2023. Available from: https://paconsortium.ca/admission-requirements
Physician Assistant Education Program. Admissions. [Internet] McMaster Faculty of Health Sciences, 2023. Available from: https://physicianassistant.mcmaster.ca/admissions/
Social Media Postings. Instagram Account. [Internet] 2022. Available from: https://www.instagram.com/p/Ck9UopeOVZi/?hl=en. and https://www.facebook.com/photo/?fbid=577317957728395&set=pb.100063505873590.-2207520000
CAPA-ACAM. National Certification Examination. PACCC. [Internet] Febuary 2023. Available from: https://capa-acam.ca/paccc/elgibility/
Littlewood S, Ypinazar V, Margolis SA, Scherpbier A, Spencer J, Dornan T. Early practical experience and the social responsiveness of clinical education. British Medical Journal. 2005;331:387–91.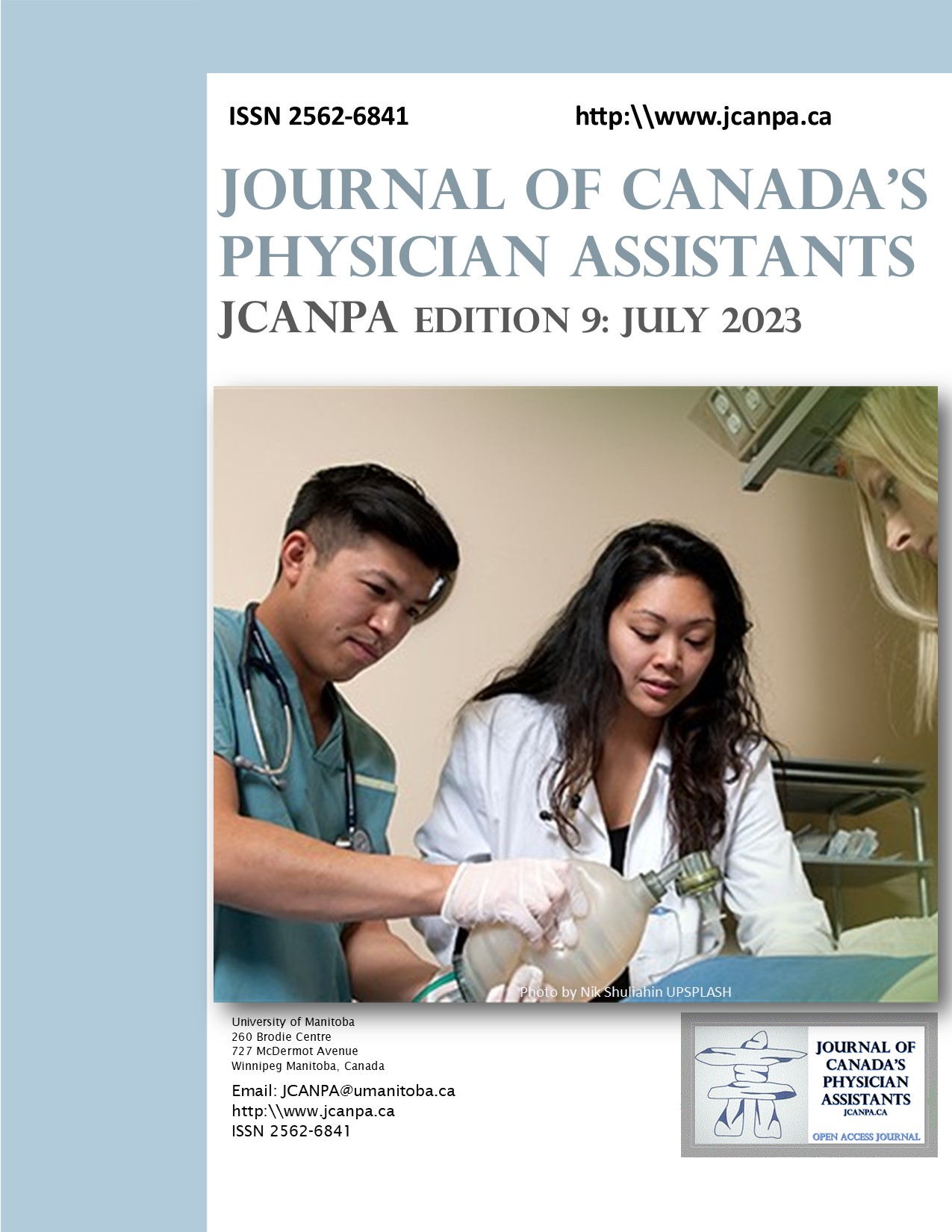 Downloads
How to Cite
Kennedy, S. (2023). The Differences Between Canadian Armed Forces and Civillian Physician Assistants: An Interview Series: Differences Between CAF and Civillian PAs. The Journal of Canada's Physician Assistants, 4(9), 2–11. https://doi.org/10.5203/jcanpa.v4i9.933
Section
Original Research
License
Copyright (c) 2023 Ms. Sophie Kennedy
This work is licensed under a Creative Commons Attribution-NonCommercial-NoDerivatives 4.0 International License.
Authors published in the Journal of Canada's Physician Assistants (JCanPA) retain copyright of their articles, including all drafts and final published version. By agreeing to publish in JCanPA, authors grant the journal the right of first publication and distribution rights of the articles. Authors are free to submit their work to other publications in addition to JCanPA, provided they acknowledge its initial publication in JCanPA.
JCanPA is published online in the public domain. JCanPA holds no legal responsibility as to how these materials are used by the public. Please ensure all authors, co-authors, and investigators have read and agree to these terms.