About the Journal
The Journal of Canada's Physician Assistants (JCANPA) is a peer-reviewed open-access journal sharing and translating knowledge of Canada's Physician Assistants' practice,  profession, and health care solutions. 
Canadian Physician Assistants are medical generalists practicing medicine within a formalized and collaborative partnership with physicians. The Physician Assistant is a communicator and connector in their clinical environments. PA support and practice the science, art and wisdom of medicine in their communities, surgery settings, or hospital-based environments across all demographics. The PAs' scope of practice mirrors that of physicians and within trust-centred relationships with patients and all healthcare providers. 
An Inukshuk in the shape of a person signifies safety, hope and friendship and is respectfully used to symbolize our Journal's values, hopes, and purpose. Used as a directional marker in Canada's North, the Inukshuk is an Inuit symbol of communication.  From the Inuktitut, ᐃᓄᒃᓱᒃ, plural ᐃᓄᒃᓱᐃᑦ; alternatively, inukshuk in Inuinnaqtun, iñuksuk in Iñupiaq, or inukshuk in English.  
This Journal is not intended to provide directions for self-care and treatment. When it comes to health, direct communication with qualified and knowledgeable medical providers is essential.
Current Issue
Vol. 4 No. 9 (2023): Physician Assistants and Team Medicine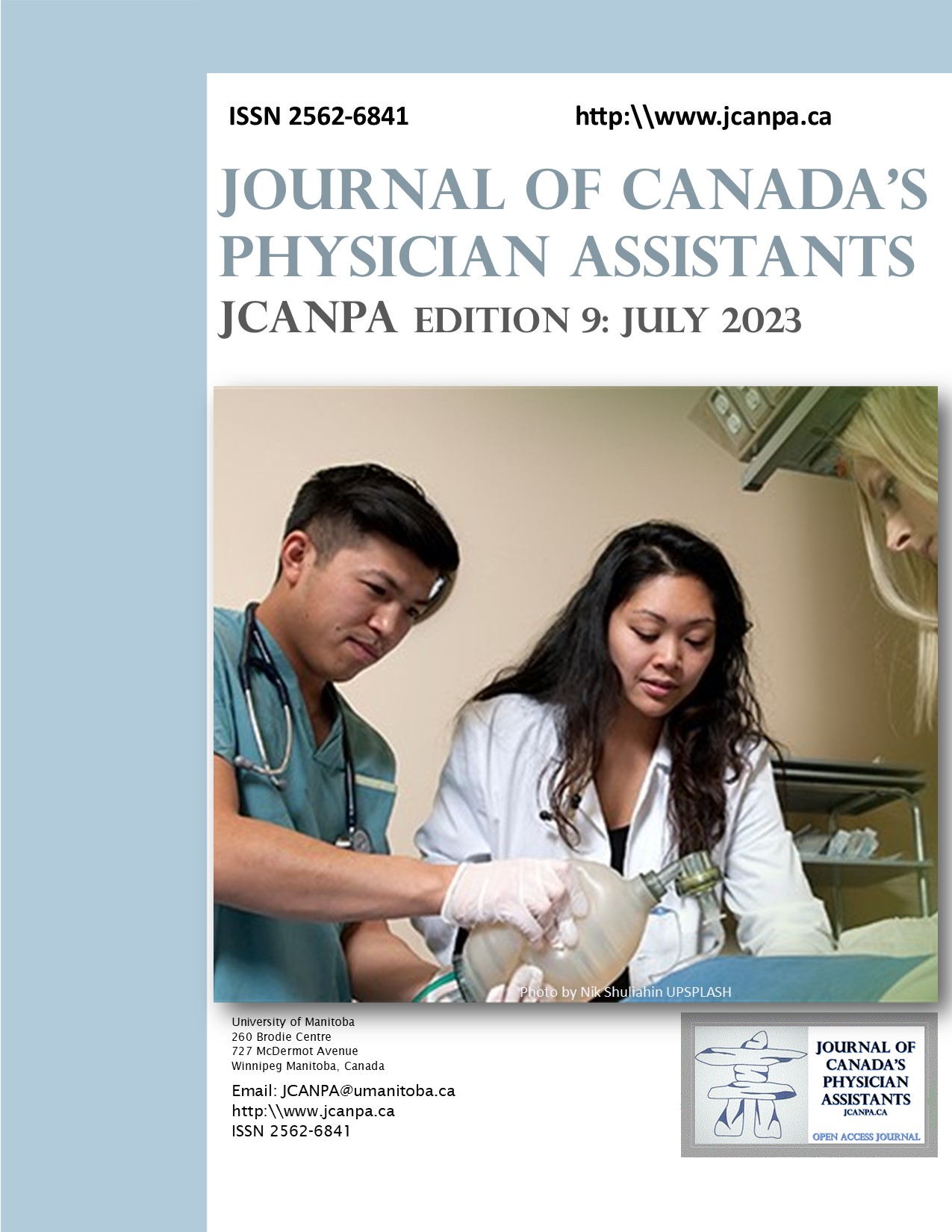 Team Medicine is the focus of the ninth edition of the Journal of Canada's Physician Assistants. This edition brings you three articles discussing the differences between Canadian Armed Forces and Canadian Civilian Physician Assistants, shares the lessons learnt from the first PAs on UK hospital services, and explores the EPA-PA, integration, and PA role satisfaction in Hamilton, Ontario.  I hope you find it interesting and informative.
We look forward to your submissions and comments.  Contact the Editorial Team at jcanpa@umanitoba.ca with your suggestions and letters.
View All Issues
Sponsored by the University of Manitoba