A Cutaneous manifestation in a 59-year-old patient with Novel Coronavirus 2019 (COVID-19) seen in a primary care clinic in Alberta, Canada: a case report
A case report
Keywords:
Exanthema; Coronavirus; Covid-19; Skin; Patients; Pandemics; Primary Health Care; Alberta; Canada
Abstract
This case report describes a skin rash presented in a patient diagnosed with COVID-19 in Urmia, Iran. The patient was virtually connected to our clinic in Calgary, Alberta. The clinical manifestation in this case is an example of cutaneous lesions in patients with COVID-19 and can be used for an educational purpose. All data has been collected with the patient's written consent.
This clinical case study advocates for more data collection on the skin lesions in patients with COVID-19.
References
1. Marraha F, Al Faker I, Gallouj S. A review of the dermatological manifestations of Coronavirus disease 2019 (COVID-19). Dermatol Res Pract. 2020;2020:9360476
2. Sameni F, Hajikhani B, Yaslianifard S, Goudarzi M, Owlia P, Nasiri MJ, et al. COVID-19 and skin manifestations: An overview of case reports/case series and meta-analysis of prevalence studies. Front Med (Lausanne). 2020;7:651.
3. Wollina U, Karadağ AS, Rowland-Payne C, Chiriac A, Lotti T. Cutaneous signs in COVID-19 patients: A review. Dermatol Ther. 2020;(dth.13549):e13549.
4. Cascella M, Rajnik M, Cuomo A, Dulebohn SC, Di Napoli R. Features, evaluation, and treatment of Coronavirus. In: StatPearls. Treasure Island (FL): StatPearls Publishing; 2020.
5. Klejtman T. Skin and COVID-19. J Med Vasc. 2020;45(4):175–6.
6. Salamon M. Skin symptoms common in COVID "long-haulers" [Internet]. Medscape. 2020 [cited 2020 Nov 15]. Available from: https://www.medscape.com/viewarticle/940058
7. Daneshgaran G, Dubin DP, Gould DJ. Cutaneous manifestations of COVID-19: An evidence-based review. Am J Clin Dermatol. 2020;21(5):627–39.
8. Hay RJ. A viral rash: the impact of COVID-19 infection on the skin. Br J Dermatol. 2020;183(1):1–2.

9. Marzano AV, Genovese G. Response to: "Reply to 'Varicella-like exanthem as a specific COVID-19-associated skin manifestation: multicenter case series of 22 patients': To consider varicella-like exanthem associated with COVID-19, virus varicella zoster and virus herpes simplex must be ruled out." J Am Acad Dermatol. 2020;83(3):e255–6.
10. Bouaziz JD, Duong T, Jachiet M, Velter C, Lestang P, Cassius C, et al. Vascular skin symptoms in COVID-19: a french observational study. J Eur Acad Dermatol Venereol [Internet]. 2020;34(9). Available from: http://dx.doi.org/10.1111/jdv.16544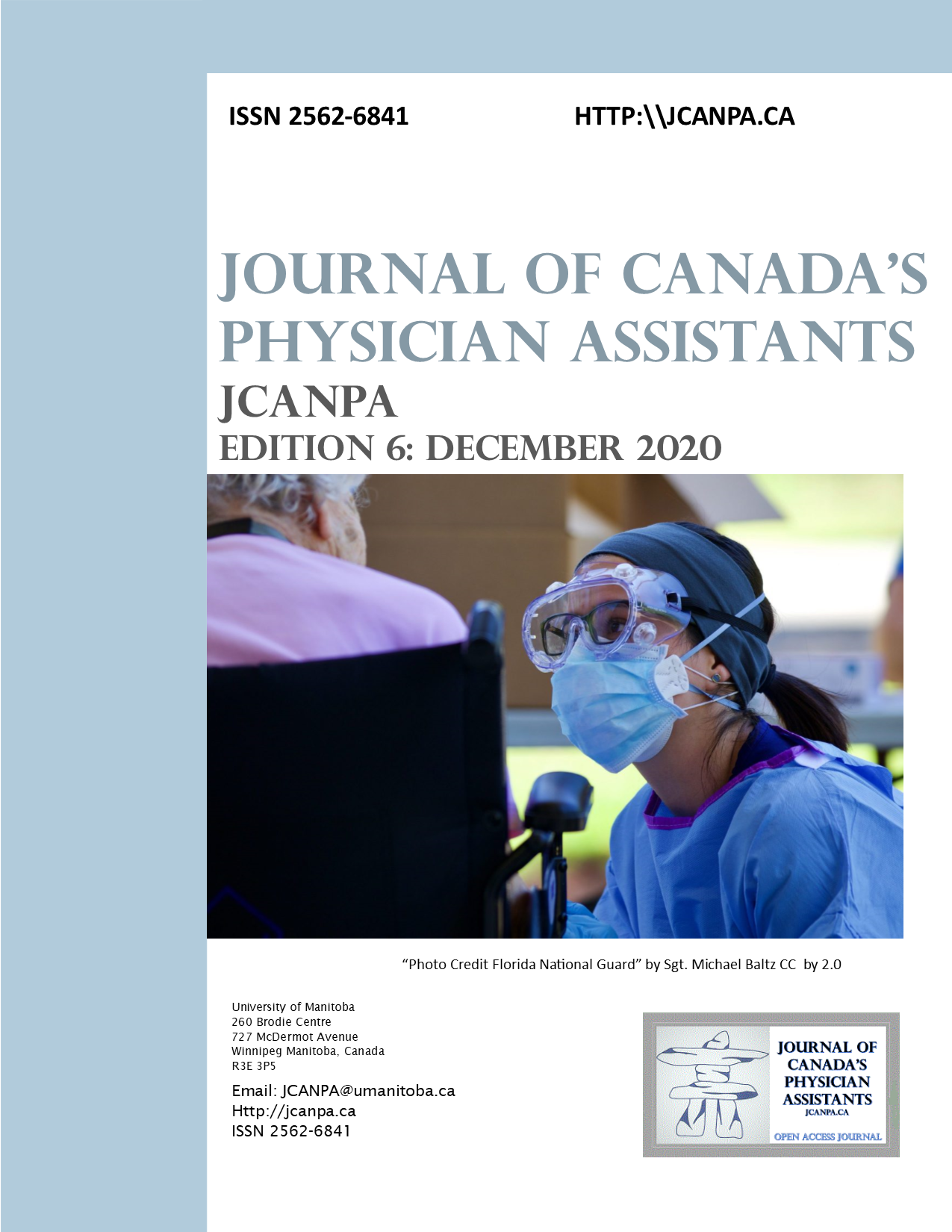 Downloads
How to Cite
Bani-Adam, G. (2020). A Cutaneous manifestation in a 59-year-old patient with Novel Coronavirus 2019 (COVID-19) seen in a primary care clinic in Alberta, Canada: a case report: A case report. The Journal of Canada's Physician Assistants, 2(6), 32–37. https://doi.org/10.5203/jcanpa.v2i6.878
Section
Clinical Case Studies
License
Authors published in the Journal of Canada's Physician Assistants (JCanPA) retain copyright of their articles, including all drafts and final published version. By agreeing to publish in JCanPA, authors grant the journal the right of first publication and distribution rights of the articles. Authors are free to submit their work to other publications in addition to JCanPA, provided they acknowledge its initial publication in JCanPA.
JCanPA is published online in the public domain. JCanPA holds no legal responsibility as to how these materials are used by the public. Please ensure all authors, co-authors, and investigators have read and agree to these terms.