A Perspective on the Economic Sustainability of the Physician Assistant Profession in Canada
Abstract
Physician Assistant funding is about dollars and cents, but will we have those dollars if we don't apply common sense? The physician assistant (PA) role represents one of the most revolutionary and yet financially subversive additions to our current health care system.  PAs are medically educated clinicians whose generalist training allows them to work in any setting within a formalized agreement with a physician. When used to their full capacity, PAs help supplement physician care, increase patient access to care, and improve efficiencies.  Despite provincial interest in improving access and delivering cost-effective and efficient health care, our healthcare system rarely factors in the opportunity costs and comparative advantages offered by the introduction of PAs. This paper outlines the importance of increasing Government and employer awareness of sustainable funding models and the growing need to develop alternative policies to support PA utilization to optimize healthcare delivery. If the effectiveness of the PA role comes down to dollars and cents, then it is time to examine those dollars using common economic sense to ensure a sustainable and accessible healthcare system for all Canadians.
References
Kernick, D P, Introduction to Health Economics for the Medical Practitioner, Postgrad Med J 2003 79
Lamptey, Na-Koshie, The ABCs of Cost-Effectiveness Analysis, Economics and Health Policy, Vol 80 No 1 December 2002
Cawley, James F., Physician Assistant Supply and Demand, Vol 18 Bo 8 August 2005
Cawley, James F., Physician Assistants and Their Role in Primary Care, May 2012, Vol 14:5
Chapman, Maurice. THE HISTORY OF THE CANADIAN ACADEMY/ASSOCIATION OF PHYSICIAN ASSISTANTS (CAPA) 1999-2012. 2012 Unpublished CAPSTONE Thesis MPAS Degree University of Nebraska Medical Centre Accessed 6/2018 CAPA-ACAM.ca
Larson EH, Hart LG, Ballweg R. National estimates of physician assistant productivity. J Allied Health. 2001 Fall;30(3):146-52.
Conference Board of Canada: Lack of Sustainable Funding a Barrier to Physician Assistant Employment in Canada. 2017 retrieved from http://www.conferenceboard.ca/press/newsrelease/17-09-13/lack_of_sustainable_funding_a_barrier_to_physician_assistant_employment_in_canada.aspx
Conference Board of Canada: Gaining Efficiency. 2016 retrieved from http://www.conferenceboard.ca/e-library/abstract.aspx?did=8347
The Royal College of Physicians and Surgeons of Canada. CanMEDS Framework. 2015. Retrieved from: http://www.royalcollege.ca/rcsite/canmeds/canmeds-framework-e
Manitoba Health Health Living and Seniors 2015-2016 Annual Report: http://www.gov.mb.ca/health/ann/docs/1516.pdf
Gafni A, Birch S, Buckley G. (2011). Analysis of Physician Assistants in Ontario: Literature Review and Feasibility Study. CHEPA Working Paper Series, Paper 11-03. Accessed: http://www.chepa.org/docs/working-papers/chepa-wp-11-03.pdf
Zeckhauser, Richard, Michael Eliastam, The Productivity Potential of the Physician Assistant, The Journal of Human Resources Vol 9 no 1, Winter, 1974
Morgan, A. Perri, Nilay D. Shah, Jay S. Kaufman, and Mark A. Albanese, Impact of Physician Assistant Care on Office Visit Resource Use in the United States, Health Serv Res. 2008 Oct; 43(5 Pt 2): 1906–1922
Canadian Medical Association, Physician Assistant Toolkit, Jan 22, 2010
The American Academy of Physician Assistants. Third Party Reimbursements for PAs. 2017. Retrieved from: https://www.aapa.org/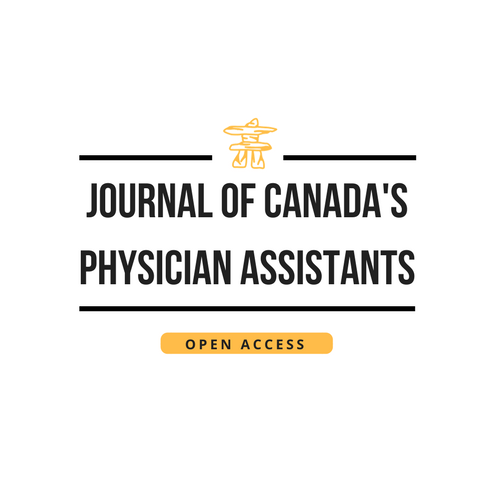 Downloads
How to Cite
Jones, I., Ives, R., Burrows, K., & Jones, A. W. (2018). A Perspective on the Economic Sustainability of the Physician Assistant Profession in Canada. The Journal of Canada's Physician Assistants, 1(1). https://doi.org/10.5203/jcanpa.v1i1.628
Section
Perspective, opinion, and commentary:
License
Authors published in the Journal of Canada's Physician Assistants (JCanPA) retain copyright of their articles, including all drafts and final published version. By agreeing to publish in JCanPA, authors grant the journal the right of first publication and distribution rights of the articles. Authors are free to submit their work to other publications in addition to JCanPA, provided they acknowledge its initial publication in JCanPA.
JCanPA is published online in the public domain. JCanPA holds no legal responsibility as to how these materials are used by the public. Please ensure all authors, co-authors, and investigators have read and agree to these terms.